Evofenedex wrote about Eurotape
Date 08-09-2020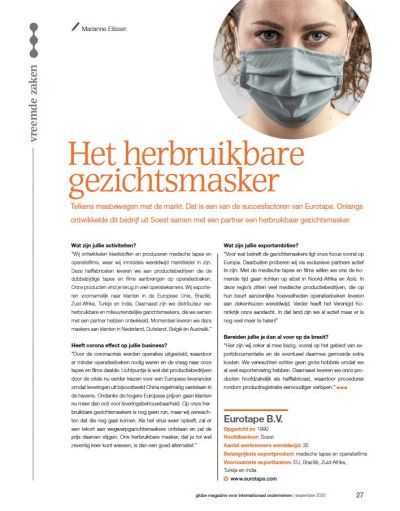 Evofenedex, a Dutch association representing 15.000 companies that import, export and transport goods wrote about Eurotape in their magazine "Globe" which was published in September 2020. A translation can be found below:
What are your activities?
"We develop adhesives and produce medical tapes and surgical films, in which we are now the global market leader. We supply these semi-finished products to production companies that use the double-sided tapes and films to apply on surgical drapes. You can find our products in many operating theaters. The majority of our customers are located in the European Union, Brazil, South Africa, Turkey and India. We are also distributor of reusable and environmental friendly face masks, which are developed in collaboration with a partner company. These masks are distributed to customers in the Netherlands, Germany, Belgium and Australia. "
Does corona affect your business?
"Because of the corona crisis, scheduled surgeries have been postponed. The need for surgical drapes declined and so did the demand for tapes and films. On the bright side is that production companies are more likely to opt for a European supplier because deliveries from, for example, China are regularly blocked in by customs. Despite higher European prices, customers are going value delivery reliability more than ever. There is not a big run for our reusable face masks yet, but we expect there will be on short term. If the virus revives, there will be a shortage of disposable face masks and that will make the price increase. Our reusable mask, that you can be washed up to seventy times will be good alternative. "
What are your export ambitions?
"Regarding our reusable face masks, the main focus is on Europe. Exclusieve partners are active outside Europe. In sales of medical tapes and incise films, we point at North Africa and Asia. These regions are home to many medical manufacturing companies who supply significant quantities of surgical drapes to hospitals worldwide. Furthermore, the United Kingdom has our attention. We are active in that country already, but the market has much more potential.
Are you preparing for Brexit already?
"We are certainly working on this, especially in the field of export documentation and additional costs involved. However, we do not expect big obstacles because we have a lot of exporting experience. Moreover, the majority of our products are semi-finished goods. Which should simplify product registration procedures."
(source: Evofenedex, globe magazine voor internationaal ondernemen | september 2020)
News overview